Below you will find a brief menu of the many services Coosa Valley Equine Center is proud to offer:
 General Anesthesia:
Inhalation/gas anesthesia via respirator
Veterinarian administering/monitoring
Oximetry
EKG
Respirator
Nihoen Kohden Monitor System
Direct Blood Pressure
Assisted recovery, after surgery, in padded recovery/induction room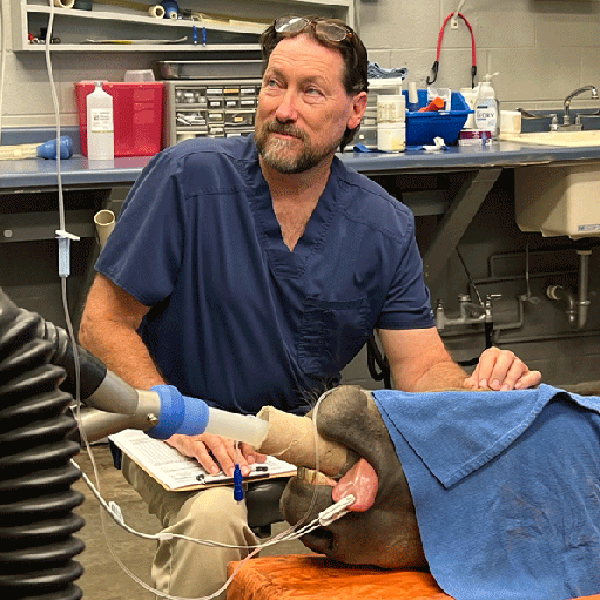 Orthopedic Surgery – for example:
Arthroscopy
Interspinous ligament desmotomy for "kissing spines" – a frequently underlying cause of back pain
Transphyseal Bridging for crooked foal knees
Sequestrum removal
Tendon contracture
Tendoscopy
Fracture repairs (plates & screws)
Tendon repair
Arthrodesis (joint fusion)
Numerous other procedures for lameness & injury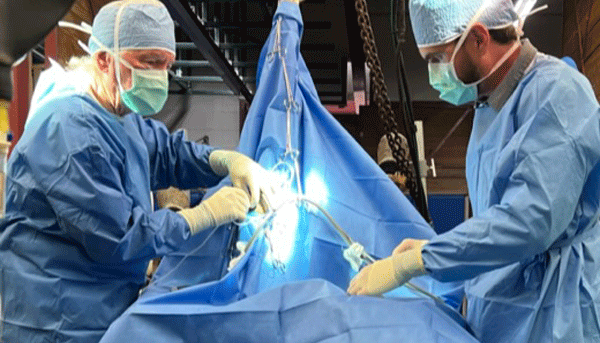 A large menu of soft tissue procedures, too many to list but including:
Umbilical Hernia
Cryptorchidectomy
Dental
Scar Revision
Wound reconstruction/management
Prosthetic Larynogoplasty (Tie-Back)
Abdominal Surgery:
Exploratory Laparotomy (colics)
Laparoscopy
Laser procedure:
Transendoscopic respiratory procedure
Tumor ablation
Numerous soft tissue applications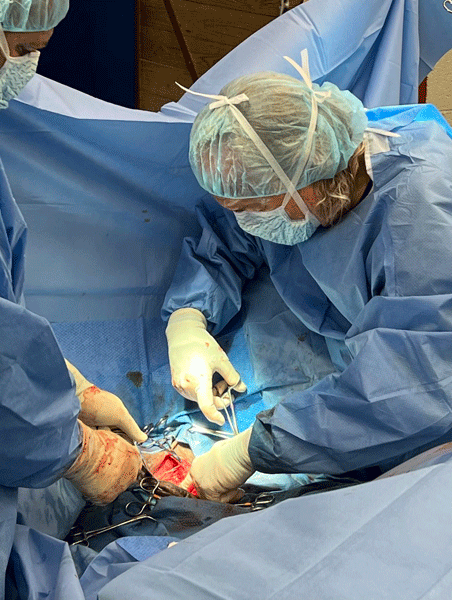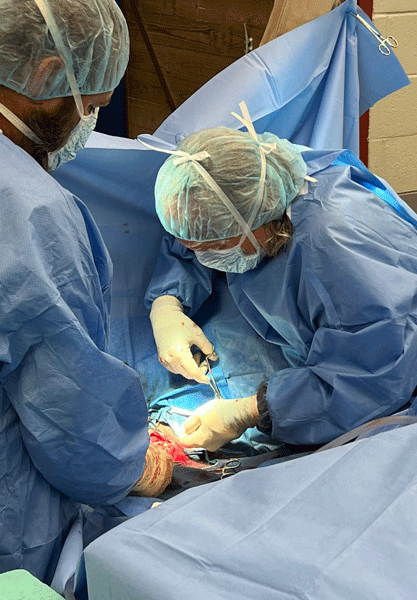 Advanced Dental Services:
Extraction
Repulsions
Abscess Correction
These services are generally provided by Dr. Allen Etheridge, who uses our facility as his home away from his Mississippi home for cases in our general area.  Appointments with Dr. Etheridge can be made with him directly by calling 662-769-4500
5 Hospital barns; one climate controlled, one houses reproductive cases with large open stalls for mares and foals.
Two separate isolation barns
Hospital stalls are monitored by video for better evaluation. "Night Watch" telemetry can send pulse, respiration, EKG, and general status to our on-call veterinarian by a glance at his cell phone.
ICU stall located inside main clinic
35 – Hospital stalls
Outpatient Services include:
Lameness Diagnosis
Performance Evaluations
Pre-purchase Examinations
Internal Medicine Diagnostics
Articular Therapy
Regenerative Therapy
IRAP/Pro Stride/ PRP/ BMAC
Ultrasound
Upper airway endoscopy – Resting, Pre & Post exercise and Dynamic (under saddle or on longe line)
Gastroendoscopy
Digital radiography
Lameness Locator
Covered lameness evaluation area with podiatry center
Extra corporal Shockwave Therapy used in conjunction with regenerative modalities can return horses to performance sooner than ever before.
Weekly Farriers; Travis Reed of Sport Horse Farriers and Leila Rice of Equine Services

Therapeutic Shoeing that may require radiographs and/or overnight stay
Dustin Siegler is our most frequent visiting farrier having started his equine career as a high school student working here at Coosa Valley Equine Center

Routine health maintenance; preventive medicine, dental, dietary, parasite control
Imaging Services:
Radiology

We have numerous x ray units from portable to a large overhead system for procedures that require large amounts of radiologic "power"
We have multiple imaging/processing units that are powered by Bluetooth and do not require wired transmission – truly state of the art
Our diagnostic systems are of the highest detail and power levels for the best images available.

Ultrasound

Orthopedic
Thoracic
Abdominal
Reproduction
We have multiple units with numerous probes with specific indications for examination

MRI

MRI is the gold standard for imaging for horses as well as humans
We can do all lower limbs and joints – sport horse injuries are the greatest indicator for this technology
Certain areas are inaccessible due to size to anatomy that precludes positioning inside the MRI coil

Imaging Interpretation

Dr. Kurt Selberg and his Inside Information consult on our advanced imaging procedures
MRI's consist of 600-800 images, best interpreted by those who perform that service daily

Endoscopy – Flexible Fiberoptic

Upper respiratory tract
Dynamic endoscopy for upper respiratory tract while under saddle, longing or in hand. This evaluates not only the anatomy of the respiratory tract but its function when at work or exercise
Gastroendoscopy for esophageal, gastric, ulcer and functional issues
Reproductive Services
Artificial insemination (direct, chilled and frozen)
Semen evaluation
Embryo transfer, set-up, and execution
"Known Shipper" status by Airlines, allows access to major airlines counter to counter service for semen, embryos and harvested ovaries or testicles for victims of catastrophic events
Ultrasound – our units are the most recent and detailed focused equipment available with multiple probes for appropriate application
In-house lab provides evaluation of uterine cytology and culture samples
Evaluation for advanced reproductive techniques such as ICSI and embryo harvest and freezing
Laboratory services
In house laboratories; for immediate emergency evaluation

Complete Blood Counts
Blood Chemistry
Bacterial cultures and sensitivities
Numerous condition specific testing

 Overnight capabilities to outside laboratories

We have accumulated numerous laboratory contacts that provide the latest in technology for certain in depth procedures
We do not just select one lab and use as our "go to" lab – we use the most appropriate outside lab for specific conditions

We are a USDA certified EIA (Coggins) testing laboratory

Coggins are routinely performed every Wednesday at 11:00 a.m., any samples we have in hand by that time will be run that day. Under certain circumstances, we offer next day or same day test.

Our Global Vet Link agreement will get you a hard copy Coggins test, as well as a copy for your phone or tablet. Email will have you set up for interstate health certificates based on appropriate exam certification.
Emergency Services
24 Hour Emergency Consultation is available from our on-call doctors and staff. This is available by first accessing our usual telephone numbers and proceeding as directed.
Ambulatory services/appointments available for local clients
If you happen not to find a particular service your horse might need, feel free to call and discuss it with one of our knowledgeable veterinarians.
Coosa Valley Equine Center, PC
Our Hours:
Monday - Thursday: 8AM - 4PM CST
Friday: 8AM – 2PM CST
Saturday - Sunday: Closed
Urgent/Emergency After Hours Available
Our Location:
1330 Mineral Springs Road
Pell City, AL 35125
205.338.1111
100% Equine – medical and surgical care including performance evaluation