About Coosa Valley Equine Center, PC
We would like to welcome you to Coosa Valley Equine Center. Our current facility was constructed in 1987 on the outskirts of Pell City, Alabama, approximately 20 miles east of Birmingham, in central Alabama and 100 miles West of Atlanta, Georgia; 100 miles North of Montgomery, Alabama; 125 miles South of Chattanooga, Tennessee; 80 miles Northeast of Tuscaloosa, Alabama. The clinic is conveniently located off Interstate 20 at Exit # 156 (Eden)and north of the interstate 1/3 mile (on right). Not only is the clinic located next to a major Interstate artery, it is also within mere miles of more major US Highways (77, 78 & 231), which allows ease of access from all surrounding states. Interstate-59 is 25 minutes away and Interstate-459, Birmingham's perimeter interstate is less than 20 minutes from our doors.

The center consists of a two-story clinic which includes a surgery suite and induction/recovery room, examination/treatment room, an indoor intensive care stall, inside and outside stocks for examinations, central pharmacy, procedure area, offices, overnight apartment, surgery viewing area, lounge/conference room. There are also two in-house laboratories, three hospital barns, and two separate isolation barns which allow thirty-five horses to be hospitalized for treatment and care. There is a covered all weather riding–working arena that allows lameness, performance, and presales cases to be evaluated under saddle, longing and in hand on appropriately maintained footing. A farrier shop is available for procedures requiring specialty fitting and shoeing.
Compassionate, Experienced, Personal
Our main hospital barn is heated and consists of twelve stalls. All are equipped to deliver intravenous fluids, four large corner stalls for mare with foals or draft horses and three specially floored stalls for the severe lameness cases. Walls are poured in place concrete for sanitation, strength, and safety. Our second, eight stall barn, serves as an outpatient facility. In addition to these, we have an eleven-stall mare and stallion handling facility with large open-air stalls, to accommodate the larger mares and foals, timer-controlled lighting, three working stocks, and a reproduction laboratory. This area is used as a regular hospital space when breeding is not a priority.
The center has a podiatry/farrier clinic adjoining its covered lameness evaluation arena which allows our patients the opportunity to return to a more productive life even sooner.  Modern shoeing materials, equipment and application techniques are used by our Coosa Valley Equine Center farrier as well as an option to use by visiting farriers.  We have 32,500 sq. feet underroof and make efficient use of it all!!!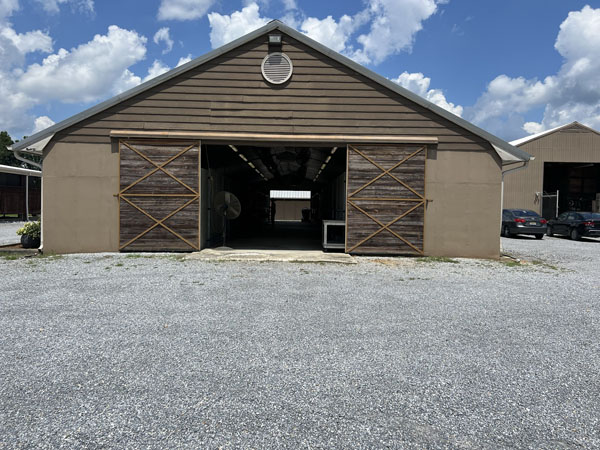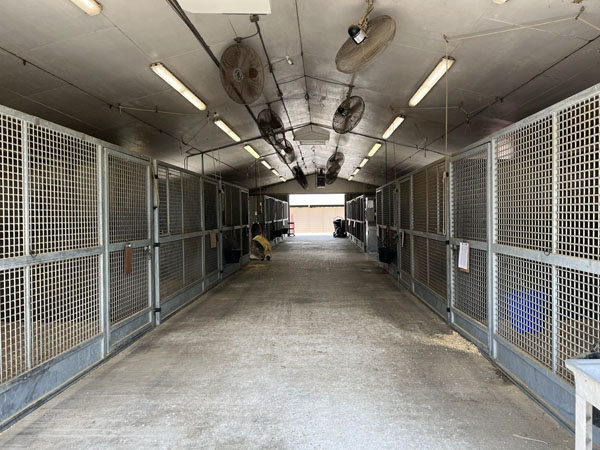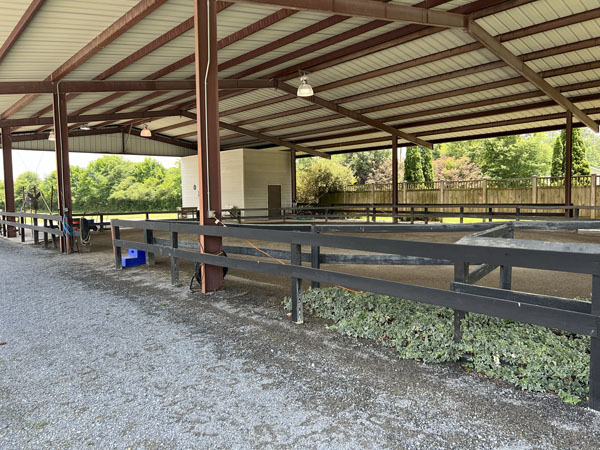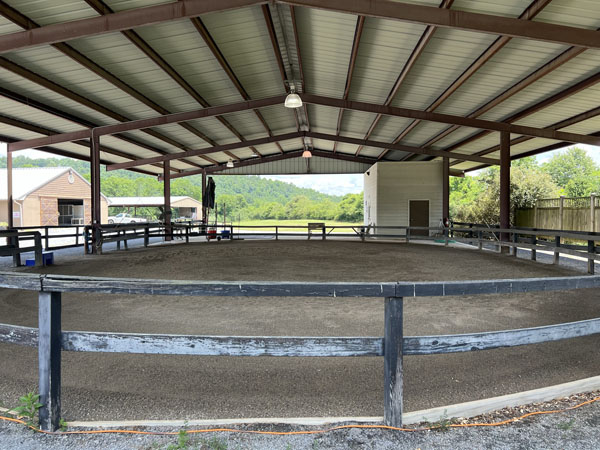 Coosa Valley Equine Center has been proud to provide essential health care services to the equine community since 1987 – over 36 years. Our goal is to continue to provide those services for as long as there are horses to be cared for!!! In the aftermath of the Covid19 pandemic and its long-lasting impact, we find it necessary to make some modifications in how we go about our daily work:
Most importantly – our hospital doors will be open to EVERY horse in need of urgent & emergency care as has been our policy since first opening those doors.
Horses in need of care for health, injury & comfort will be seen on an appointment basis as well.
We will be compacting our clinic hours to reduce exposure of our staff, their families as well as our clients to the unpredictable Covid that has infiltrated our lives and its impact on the workplace environment.
Certain modifications of hours as we go about our daily practice have occurred. The post-Covid world offers an altered staff pool at every level from our day-to-day staff through the availability of veterinarians through most of our suppliers and their staff.
Clinic hours are 8AM until 4PM central time Monday through Thursday and 8AM until 2PM central time Friday. Full clinical support will be available during that time.  This includes our Business Office as well.
"After Hours" situations will be handled as they have in the past.
We are in hopes these policies and the other unseen modifications we have instituted will help us adjust to a new world of challenges.  We must all remember that a clinical case of any contagious condition in our hospital staff could force an extended suspension of ALL services including emergencies.  Please understand & respect our concerns for all who would be affected by such a situation.  We also must adapt to the changed society we live in and by doing so we hope to not only sustain but improve our level of services to our clients.  We are taking these steps to help maintain our ability to support you & your horses during these trying times.
Remember, if you have a situation that requires urgent or emergency care at ANY time; please contact us through the usual channels, starting with a phone call to 205-338-1111.
Cheers, IMEM
(It's Me, Ed Murray)
Ed Murray, DVM
Coosa Valley Equine Center, PC
Our Hours:
Monday - Thursday: 8AM - 4PM CST
Friday: 8AM – 2PM CST
Saturday - Sunday: Closed
Urgent/Emergency After Hours Available
Our Location:
1330 Mineral Springs Road
Pell City, AL 35125
205.338.1111
100% Equine – medical and surgical care including performance evaluation