Laboratory Services & MRI
One important service that sets Coosa Valley Equine Center, PC from other equine veterinarians is our diagnostic laboratory services.  Being able to conduct an important test like an MRI on your animal can be crucial to effective treatment.  We look forward to taking care of your total animal health needs.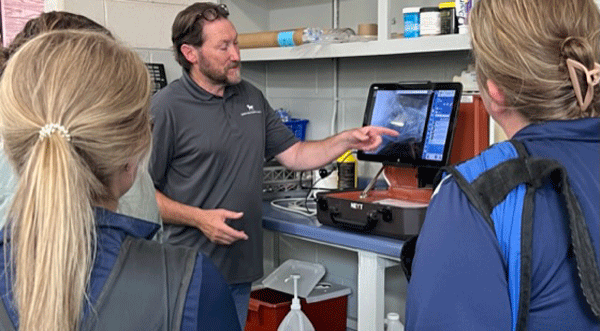 IMAGING SERVICES:
Radiology

We have numerous x ray units from portable to a large overhead system for procedures that require large amounts of radiologic "power"
We have multiple imaging/processing units that are powered by Bluetooth and do not require wired transmission – truly state of the art
Our diagnostic systems are of the highest detail and power levels for the best images available.

Ultrasound

Orthopedic
Thoracic
Abdominal
Reproduction
Ocular
Ultrasound guided therapies
We have multiple units with numerous probes with specific indications for examination

MRI

MRI is the gold standard for imaging for horses as well as humans
We can do all lower limbs and joints – sport horse injuries are the greatest indicator for this technology
Certain areas are inaccessible due to size to anatomy that precludes positioning inside the MRI coil

Endoscopy – Flexible Fiberoptic

Upper respiratory tract
Dynamic endoscopy for upper respiratory tract while under saddle, longing or in hand. This evaluates not only the anatomy of the respiratory tract but its function when at work or exercise
Gastroendoscopy for esophageal, gastric, ulcer and functional issues
Urogenital including the bladder
Telephone Numbers:
205.338.1111
205.338.1112
Fax: 205.338.3242
After Hours Emergency Number: 205.753.0451
This number is only activated after business hours and for emergencies only. Please use our main business lines during normal business hours for all other calls. We also activate this number when we have land line communication failures.
DURING REGULAR BUSINESS HOURS
Coosa Valley Equine Center, PC
Our Hours:
Monday - Thursday: 8AM - 4PM CST
Friday: 8AM – 2PM CST
Saturday - Sunday: Closed
Urgent/Emergency After Hours Available
Our Location:
1330 Mineral Springs Road
Pell City, AL 35125
205.338.1111
100% Equine – medical and surgical care including performance evaluation